Mozilla today released the latest version of its Firefox browser, Firefox 76, which includes password management updates, picture-in-picture support, better Zoom integration, and more.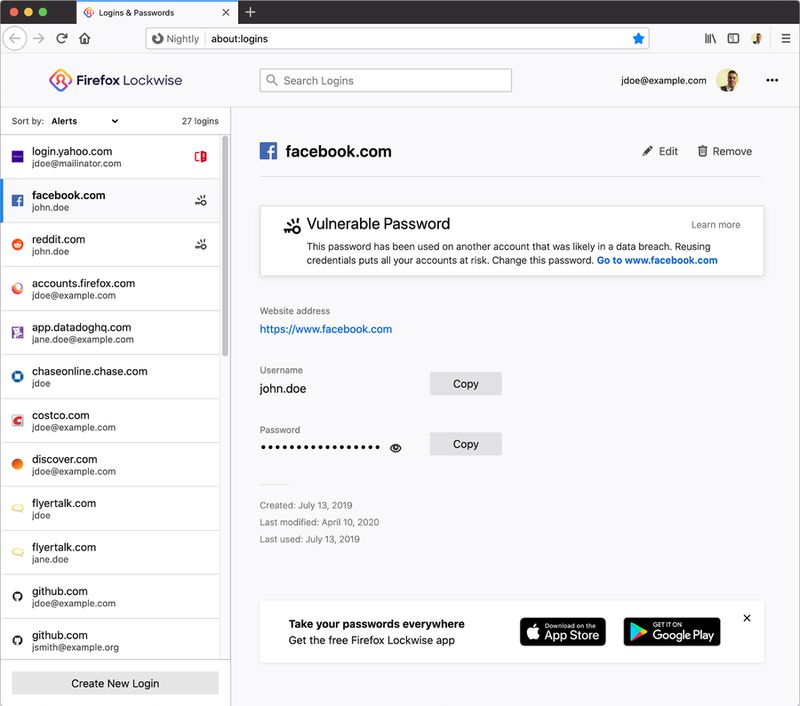 The new Firefox update includes improvements for Firefox Lockwise, which offers built-in password management features much like Safari to protect saved passwords.
Firefox Lockwise will require a device's account password before allowing a saved password to be copied, and it will let users know if a website breach has occurred that compromises a login and password.
It also provides an alert for vulnerable passwords, which are passwords used for more than one site. The password generating feature that creates random passwords has also been rolled out to more sites.
The update includes picture-in-picture functionality, allowing users to watch video in a small window even when browsing other sites, and it supports Audio Worklets, so Firefox users can join Zoom calls in the Firefox browser without the need for additional downloads.
Firefox 76 is available as of today and can be downloaded from the Firefox website. Current Firefox users can upgrade from within the browser.
Top Stories
Jon Prosser: Apple to Announce 13-Inch MacBook Pro Refresh Today
Apple today will announce a refresh of the 13-inch MacBook Pro, according to Jon Prosser of the YouTube channel Front Page Tech. Rumors have suggested that the new model could be a 14-inch MacBook Pro with slightly slimmer bezels around the display, in line with the 16-inch MacBook Pro replacing the 15-inch model last year.
The new 13-inch or 14-inch MacBook Pro is also expected to feature…
iPhone 12 Lineup With OLED Displays Predicted to Start at $649, Breaking the $999 Barrier
Apple has never sold a new iPhone with an OLED display for under $999, but with the iPhone 12 lineup expected to include a wider range of models, that could soon change.
iPhone 12 pricing could start at $649 this year, according to Jon Prosser of the YouTube channel Front Page Tech. Prosser says this information comes from his same source who accurately revealed the new iPhone SE's launch…
Apple Watch ECG Helps Detect Case of Coronary Ischemia Missed by Hospital ECG
The single-lead ECG function on Apple Watch isn't meant to be as informative or as sensitive as the multi-lead ECGs you might get in a doctor's office or hospital, which use several points of contact. However, a new article in The European Heart Journal tells the story of an 80-year-old woman whose Apple Watch detected evidence of a heart condition that was missed by a hospital ECG (via 9to5Mac).
…
RIP Butterfly Keyboard: Apple Finally Completes Transition to Magic Keyboard
After years of complaints over sticky or unresponsive keys, Apple has finally finished transitioning its notebook lineup away from its issue-prone butterfly keyboard.
With the new 13-inch MacBook Pro featuring the same scissor switch Magic Keyboard as the 16-inch MacBook Pro, Apple no longer sells any new MacBook Pro or MacBook Air models with a butterfly keyboard. If you are browsing Apple's…
App Recap: Views 4, CleanMyMac X, MacTracker and Major App Updates
In this week's App Recap, we've highlighted two new apps that are worth checking out. We've also compiled a list of apps that received major updates this week.
New Apps Views 4 ($4.99) – Views 4 is a news and podcasts app that presents content tailored to the interests of the user. Upon downloading the app, users are presented with a series of screens that allow for the selection of…
Apple iMessage Patent Describes the Ability to Edit Already Sent Texts
The U.S. Patent and Trademark Office this week published a new Apple patent application that details features for editing sent messages, an improved application launcher and many other possible features. (via AppleInsider)
The patent application specifically describes features of "a messaging user interface of a message application" that are not currently in iOS. These include ways to easily …
Camera Comparison: 2020 iPhone SE vs. iPhone 8 and iPhone 11 Pro
Apple last week launched its new 2020 iPhone SE, a low-cost $399 smartphone that features iPhone 8 components upgraded with the same A13 chip available in Apple's flagship iPhones. We did a full hands-on video back on Friday, but we took the weekend to see how the iPhone SE's camera measures up to the iPhone 8 and iPhone 11 Pro.
Subscribe to the MacRumors YouTube channel for more videos. …
Apple CEO Tim Cook on New Products: 'We Have Our Head Down and Are Working'
During today's earnings call covering the second fiscal quarter of 2020, Apple CEO Tim Cook provided some insight on what we can expect from Apple in terms of new products during the global health crisis. A mockup of an iPhone 12 with smaller notch Cook said that Apple is continuing to operate, and that Apple employees are getting used to working from home. "In some areas of the company, some …
Temp Mails (https://tempemail.co/) is a new free temporary email addresses service. This service provide you random 10 minutes emails addresses. It is also known by names like: temporary mail, disposable mail, throwaway email, one time mail, anonymous email address… All emails received by Tempmail servers are displayed automatically in your online browser inbox.